The Inferno Interview Neil Francis
12th Aug 2016 | Posted by The Inferno
---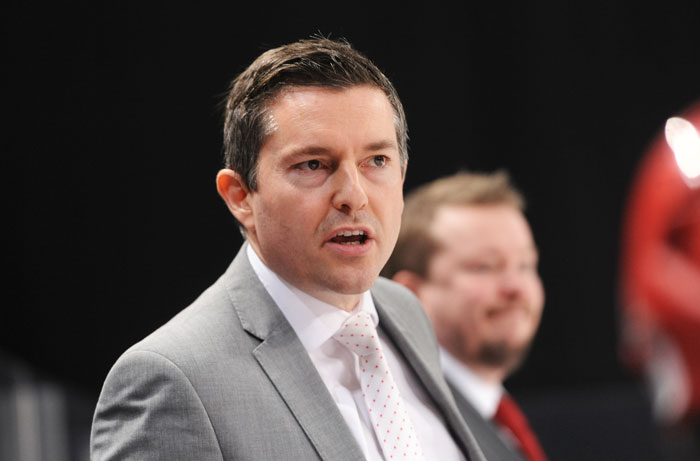 In the life of a hockey club players and staff can be somewhat transitory. For the last 24 years however Neil Francis has been a mainstay at the Devils. From player to Assistant Coach to Director of Hockey Operations, Franny as he is more widely known, has been there for the ups and the downs (and there has been some spectacular ups and crushing downs in the last 24 years of the Devils.) Franny is always willing to help out the Inferno and was happy to answer some more questions for us (despite being on a family holiday in France as it happened)
Welcome back to the hotseat again, it's been a pretty wild couple of seasons so far!

The Inferno - What has been the most surprising change for you over the past couple of seasons?


Franny The most surprising change has been the rate at which the league has improved. The EIHL has always been a bit under the radar in terms of actual standard versus the generally perception but the year-on-year increase recently has been phenomenal. Signing players with NHL games used to be huge news where now it is becoming the norm. That's just incredible.

The fantastic thing for us now in Cardiff is that, since the Calgary Four took ownership of the Club, we have been able to track the substantial improvement, compete on all fronts and be genuine contenders for all trophies.

The Inferno - We haven't seen a definite announcement yet regarding the bench coach position, but you've been mentioned in a lot of our recruitment announcements! will you be back on the bench come the weekend?

Franny Yes I'll be there this weekend. Well...fingers crossed, travel permitting! I'm currently in France on my family holiday which I thought I had booked well before the start of the season but with the opportunity to play the KHL team, we are now starting the season the earliest we have ever done. I'm boarding my ferry 8.30am on Saturday morning and dock at about 1.30pm UK time so it will then be a mad dash from Plymouth to get to IAW for about 5pm. Hopefully I'll see you there!
The Inferno - It's a hell of a lineup for the preseason games this year! Makes a nice change to not just face the Blaze again! How have you gone about attracting some of these teams over here?!

Franny I think the improvement of the league is a big driver in attracting top competition for pre-season as they wouldn't come unless it would be a good work out for them too. The Game against Zagreb will be a fantastic opportunity for the players to test themselves against some of the worlds best and the games against the teams from the Slovakia league and the current Germany 3 champions will be a good opportunity for us to see where we are as a league. All in all it makes for great preparation for us as a team as well as a really exciting way for the fans to see in the new season.

I keep hearing the 'not Coventry again?' statements but I actually love those games and they have always provided huge entertainment and set the tone for the season. The particular memories are Plumton and Marshy going toe-to-toe with Harvey on consecutive nights - I don't think anyone could say that wasn't entertaining. So as excited as I am to see the teams from other leagues, I'm glad the Blaze games are still happening.

The Inferno - And as a follow on, does the preseason schedule against teams of this calibre help attract players over to the UK and specifically Cardiff? Can it even be used as a recruitment tool?

Franny I don't think it necessarily helps close the deal on a player but it does grab the attention initially. Both Lordo and I mentioned the games in our initial approaches and I think it helps quantify the standard of the EIHL and the professional set up we run in Cardiff.

The Inferno - We've had a fairly high turnover of players this off-season with 5 retirements and some movement to other clubs. It feels like some of the new players coming in have a lot of leadership and winning mentality, was this a recruitment objective or has it just worked out that way?

Franny Experience and winning mentality was definitely something we were looking to add this year. We've recently been a pretty young team full of potential but clearly we didn't get across the line last year when our potential had put us in the driving seat. That was so frustrating for the owners, management, fans and players that we felt we needed to add a few guys who have been used to winning championships and will hopefully take the games by the scruff of the neck at the business end of the season.

The Inferno - There's been a lot of call from the fans both on the forum, and also on Twitter that we're missing a standout tough guy this season so far. How do you feel we stand on that front?

Franny It's a very interesting point and one that can be argued both ways. If you look at the NHL, the detailed analysis they have shows that it's the highly skilled players who give you the puck possession that wins games and championships. We have lead the league in fights for the past two seasons and haven't won the league..

On the other hand we love a tough team in Cardiff and this league in general has seen a lot of influential tough guys who have had a big impact for there teams. In Mark Louis we have one of the strongest and toughest guys in the league who will go with anyone and Josh Batch has surprised established tough guys time and time again with his strength and technical ability in this area.

I think the important thing to stress is that it is still August, we have a month of pre-season to assess things. Also, the kind of guy we may consider adding are likely still considering their options in North America which may or may not make some influential players available over the next few weeks.

The Inferno - And as a followup, does having a dedicated enforcer in the team make all that much difference to the other players? Obviously you played alongside some of the best and some of the toughest players the Devils have had during your playing career!

Franny It is nice to have that back up of a tough guy, yes. No one can deny that the over achievement in relation to our a budget over the last decade was partly down to Brad Voth's intimidation of other teams that gave us psychological advantage. We also saw an uplift when guys like Craig Weller and Paul Bissonnette joined us but that was also because they happened to be great players too. However, we are operating in a different environment now where we can attract more top end skill players and I don't think those guys care too much what toughness is around them as they are confident in their abilities regardless. Having guys like Louis and Batch, and over the last two years Hendo, keeping an eye out for them just probably helps round things off nicely.

The Inferno - Just a little bit of an increase in attendances over the past couple of seasons. How did the atmosphere compare on the bench in both the sold out BBT, and then the sold out IAW?

Franny Attendances since the takeover have been great to the point where we had finally outgrown the BBT as it was selling out more often than not.

The first games at IAW were electric. It didn't actually feel like it was somewhere new, we felt at home straight away. It's true what they say that the people make the venue. And that was even with a couple of teething issues and fans not necessarily sitting next to the others that they were used to making noise with in the BBT. We now of course do have the challenge of filling IAW on a regular basis and making sure the noise levels that we are used to, continue. The set up In IAW with the complete bowl and the low roof make it a very realistic prospect that it can be even noisier than the BBT. There is nothing like winning to fill a building!

The Inferno - We finally moved into the new arena last season, how much of a relief was it to see it finally happen?

Franny It was a huge relief. There was so much hard work done by people like SORAC and we have to be eternally grateful to them and people like Chris Hartrey who pushed for the quality rink that we have today rather than accepting a token gesture ice rink. The delays in starting and then completing the build made me question whether it would actually happen so it was a great relief to finally play that first game there.

The Inferno - Challenge cup victory in the first year, close to winning everything last season! What are the goals for this coming season? And how good was it to win that CC final against Sheffield in Sheffield?

Franny That CC final win is an experience that I'll never forget. From the extreme lows of the previous year, the excitement of the takeover and then to cap it with a trophy, in a final against the most successful team of recent times on their own ice was incredible. It also made it very special that there was such great travelling support, 3 of the 4 owners happened to be there and for me personally what made it complete was that my wife and daughters made the last minute decision to come along and got to celebrate with me on the ice - the girls still talk about it to this day. It did however make it harder when we lost the final this year explaining to them why they couldn't come on the ice and that there was no medal!

For this year there is no denying we all want the league title badly. Having come so close 2 years in a row, especially the way it ended last year, drives us all on to achieve that. The guys that have been here for 2 years are driven on by the hurt of missing out and the new guys want to be the difference to win that Championship.
The Inferno - An increase in import levels in both the EIHL and the EPL for the coming season... Last time we spoke you mentioned a maximum of 11 or 12 imports, but it seems like opportunities for British players are slowly being eroded?

Franny Yes, the import level does concern me. You see someone like Ben Davies who has worked so hard to improve himself and yet is currently without a job and it doesn't seem right. The good news is that the move to 4 lines for most teams means that guys like CJ, Luke Ferrara, Boxill etc will have more of a regular role this year so I guess there is some hope. I would still like to see the limit dropped by a couple though to give encouragement to those youngsters coming through. In turn those youngsters have to get out of their comfort zones and really push themselves, following the examples set by guys like Jonathan Phillips, to make the set up regardless of import numbers.

The Inferno - Milton Keynes Lightning have announced they're joining the EIHL next season, and there's been rumblings around a London team for a few years, but Neil Black has announced that's some way off. Any word on if we're looking at another team joining next season and if not, is the conference going to have to go to cater for an imbalanced number?

Franny I'm not sure to be honest, Todd deals with that kind of stuff as part of the EIHL board. It would be nice to see another new team come in, maybe someone down south so that we have a shorter road trip like the rest of the teams. If not then I think the conferences will be scrapped to accommodate the uneven number of teams.

The Inferno - Do you think the league will, or even should change its position on publishing +/- stats? Do you know why they seem so against this information being made available despite many other leagues doing it?

Franny I'm not sure if the league are against it or that it just would require quite a bit of work to verify them for accuracy when effort at the moment seems to be focused on the media side of things, which is rightly a bigger priority. Guys like Seth Bennett and Rob McGregor are doing a fantastic job of improving our media coverage, perhaps when that becomes more established things like +/- will become more of an focus for the stats guys Ronnie and Jim to add to their stat pack. I'm sure all teams take their own +/-'s for their own use although you do need to put them in context with the other stats we collect rather than just uses them as a sole indicator of performance.

The Inferno - Obviously the news from Scott Matzka has hit a lot of people hard, but the reaction from Cardiff and Braehead in particular has been amazing. Can you give us an idea of how it feels seeing people coming together like this?

Franny Yeah it is truly awful news for the Matzka family and the way they have approached adversity is incredible and inspiring. The backing that hockey fans in the UK are giving it is fantastic and it just shows how well that family is respected by former teammates and fans. We really want to make it a fun occasion for Scott and his family as well as raising some essential funds to help them battle this terrible situation. We have lots of great things planned so make sure you follow @TheMatchka for updates.

It is also another showing of the massive generosity and advocacy that UK hockey fans have shown when a member of their hockey community needs it the most, just like the fund raising for Amy Usher, Anthony Hard and the incredible £100k+ raised by the recent UK All Stars tournament.

The Inferno - Thanks for taking the time to sit down with us again! Is there anything we've missed or you'd like to add?

Franny That's for taking to time to read this and thanks for the continued support. What makes ice hockey special are the people involved and a massive part of that are groups like The Inferno, CDRA, Red Army Travel etc.

The way all teams have recruited means the potential is there for this to be the best season yet so make sure you get your tickets and welcome the team back and show the new guys why they made the right choice in signing for the Devils. Good luck to all teams and may the best team win.

P.S. please make an extra effort to support the Scott Matzka game and the Brad Voth jersey retirement to show your appreciation for two great guys for very different reasons.

Thanks,

Franny

Photo Credit - Richard Murray
---
« Back to News