Luke Piggott speaks to the Inferno
21st Sep 2011 | Posted by The Inferno
---
Canadian born Piggott began his junior career in the Cardiff junior setup, and has progressed from there too where he is today. With some appearances in the EPL, Piggott stuck with the Junior Devils and has waited for the opportunity to step up to the senior team. Known for his aggressive style of play, Piggott has shown what hard work and determination can bring on and off the ice. We catch up with Luke after the recent news of a breakthrough his lab have found for breast cancer and catch up with Luke after his hectic start to the season with the Elite Devils.
Inferno (IF) - When did you start playing hockey and how did you get into it?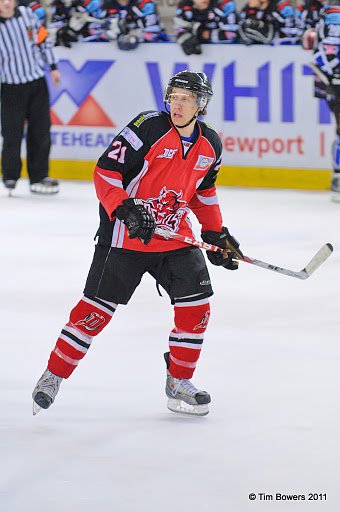 Luke Piggott ( LP )I started skating when I was 3, my parents were big hockey fans from when we lived in Calgary (where I was born) and my brother who was 5 had just started to skate. Me being the way I am, I had to do everything that my brother did so whilst he started playing hockey my dad convinced the coach to let me push a chair around the outside of the ice whilst they practiced. Since then i have never stopped!
IF - How did you end up in the UK? Why didn't you stay in Canada for Hockey?
LP - I moved to Houston Texas when I was 2 from Calgary and then came back to the Uk when I was 8...my dad works in oil!
I do often wonder "what if I had stayed in Canada my whole life, how far could I have gone with all that extra training and better coaching" but I'll never know obviously. I got invited to play for an American team out there when I was 15 but decided it was more important to finish my studies first.
IF - Who's the best forward you've played on a line with and against?
LP - I don't know if it counts but when I was a teenage kid at hockey school I got to play a couple shifts with Rob Neidermeyer that was an experience. Other than that in the British game I think it would have to be Steve Moria back in my Basingstoke Days. One guy who I always remember playing against was Jiri Jakes, he was a Czech international i played against whilst representing Great Britain at the World Winter Universiade and he had been drafted by the Bruins at the time, he had some great hands and could really hit hard!
IF - How did you find juggling University with hockey? How are you finding it now with the two way contract and still studying?
LP - During my undergraduate studies in Medical Biochemistry it was actually just as hard as now, although the season was shorter for ENL back then my work had far my defined deadlines and I had a lot of exams throughout the year I had to study hard for. Since starting my PhD the workload and expectations of you are increased and i have to put in the hours at "odd times" compared to most other students. Luckily my supervisor has been very supportive and flexible with me, he is more than happy for me to train full-time so long as the quality of my research doesn't suffer and continues to progress well. It does mean that i have sometimes been in the lab until 1am in the morning but for the most part it's about efficiently planning and executing my work. I'm also lucky that this is my submission year so in about 6 months' time I will be writing my final thesis and again that is flexible for when and where i can do that.
IF - Do you follow an NHL team?
LP - I do, I am an avid Calgary Flames fan as that is where i was born and had my first experience of hockey at the age of 2!
IF - What do you consider your best attribute and what would you like to improve on?
LP - I think one of my better attributes is perhaps being in the right place at the right time in the offensive zone, I score most my goals banging in rebounds and picking up the scraps around the net. I want to improve every aspect of my game really, every hockey player wanting to break into the pro game will tell you the same i expect. I would especially like to work on my confidence and carrying the puck though.
IF - Have you set any targets for this year?
LP - I have..... At ENL level i want to improve my PK and PP game as much as possible, try and stay at the top of the scoring charts and i want to become as much of a leader within the team as i can. At ENL my goal last year was to improve my defensive game more and i think that is key for my Elite League goal this year, to be defensively strong and also to play a simple game, north/south hockey shooting the puck when i get in a good position. It's a completely different kind of game at this level and the systems are very different and the players obviously bigger, stronger and more clever on the puck. Other than that i just want to earn as much ice time as i can for the Elite side and efficiently execute my role given to me by Franny and G when i do get that ice time.
IF - Which one current player in the British Leagues (Brit or Import) would you like to have playing in Cardiff?
LP - British player would have to be Rob Lachowicz, he's a good friend of mine and he has got the potential to be one of the best Brits around. Import wise it would have to be Pelle, he's a nice guy and so good at putting the puck at the net!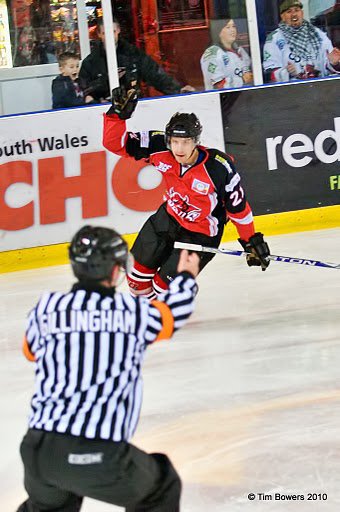 IF - Development- how much has playing in the ENL developed you and helped you progress to where you are today? ENL Head Coach Mark Cuddihy has been impressive with developing the junior players to step up to the Elite team over the recent years- what do you think has helped with this achievement? Would you recommend any junior players/imports in the league or in Europe looking to make the jump to play for the ENL Devils?
LP - This is an easy one, without the ENL and the setup at Cardiff i believe wouldn't have got a chance at the Elite League. For the last couple seasons i have sat down with Cudd and put down some targets to achieve and he has pushed me through the season to make sure I achieve them and always with the end goal of getting to the next level in mind. 2 years ago he wanted me to work on my scoring and aggressive play and then last year he highlighted how important the defensive part of the game is especially at Elite level and said i should focus on that as my goal for the season. Identifying these aspects missing from my game and then making sure i focus on achieving them has made a huge difference! This year i have my targets from both G and Cudd and again i hope to really focus on those areas, they are the coaches for a good reason after all! Cudd also has a good working relationship with G and the progression clearly works (as we saw with Timmy last season). If you look around the country there is probably only 3 clubs (Cardiff, Nottingham and Sheffield) who can say they have this system set up and working right now, if that isn't enough to attract players to the club then i don't know what will! I would definitely recommend it, if you have your sights set on the Elite League and have the potential to get there then Cudd will do whatever he can to help you get there!
IF - How much has the training with the elite team helped you over the last year or two?

LP - Training with the Elite side has been huge for me it has helped my game massively, there is nothing compared to training experience with the top players in the country for helping your game. When you play 3 or 4 days a week alongside guys like Matzka, Pelle, Pierce, Weller, Hilly.... you automatically learn how to play the game better even just by watching. You see what they do in situations and then try to mimic that. It was clear to me how much it helped when it came back to playing ENL games, i felt far more confident and I was much more comfortable in knowing where to be positionally. Going to the gym sessions with the team too also highlighted for me how important it is to look after your body if you want to play in the Elite League and so i have taken that on board too.
IF - Are you one for superstitions and rituals pre-game? If you are would you comfortable telling us what they might be?
LP - Ha, well I think EVERY hockey player has at least 1 or 2 superstitions and rituals! You could probably write a whole article on mine! A few though would be i always put my kit on in the same order, do the same off ice warm-up exercises before getting dressed, I always eat a jacket potato with tuna/mayo before home games, stand in the same place when we gather around the net, skate to the blueline at the same place when announced, always flop my skate laces to the same side before leaving the dressing room and i always have to go bar down at the end of the warm-up before leaving the ice...... those are a few light one's for you that hopefully won't make me seem TOO crazy but there are a fair few more....
IF - Where do you see hockey taking you? Is coaching something you'd consider or do you have ambitions in mind for after hockey outside of the sports?
LP - I want to play hockey at the highest level i possibly can for as long as i can. I would love to have a good Elite League career. Eventually i think coaching is something i would definitely be interested in, I think that's because my biggest problem will be having to let go of the game when I can't play it at a high level anymore. I certainly have ambitions in my work outside of hockey too, my ideal job would be running clinical trials and drug development in Oncology but whilst i am still young i want to see how far i can get with a hockey career.
IF - When you go to an away game do you switch off and join in the poker games and films or do you study?
LP - On the way to an away game I am definitely not studying, as it will just tire me out, I'll play some poker and watch the movies. But on the way home from the game i will sometimes do some studying, I actually did a little on Sunday on the way home from Sheffield as i had a couple tests Monday morning.
IF - Are you getting any good chirps since you have been ousted as the Einstein of the Hockey world? Seeing as there's another Einstein in the Elite ranks (Burrows), who's the most intelligent/knowledgeable?
LP - Haha the guys have been giving me a little stick for it but nothing too bad, mostly they have been congratulating me and are pretty interested in it all. Me and Tim are really similar and our undergrad degrees not to dissimilar too, i did a couple neuroscience modules on my course, but the subject areas are different enough such that i would say he is more knowledgeable in Neuroscience and my focus is far more Oncology specialised, sorry for sitting on the fence..... ha
Here comes the Science Part !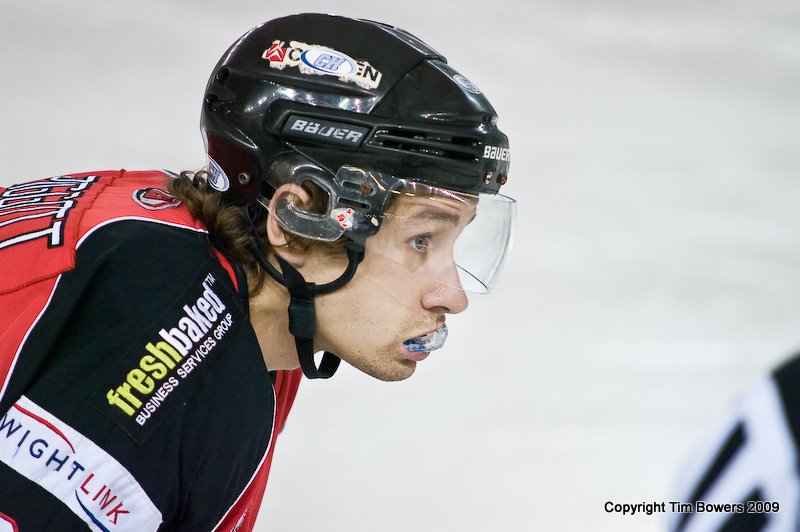 IF - Congratulations on your recent discovery, when did you first realise you wanted to go into biosciences and what got you into this subject?
LP - Thank you! Well I have always enjoyed science subjects in school and I like being able to understand and explain things. I always need to know the answer to things I am never satisfied until I have found out, human disease has also always fascinated me, you wouldn't believe some of the things your body can do! So I figured Medical Biochemistry combined my interests and then because of my slight obsession of needing to know answers Research seemed perfect for me to go into after I finished my undergrad, hence the PhD! Plus I wasn't really ready to completely give up being a student!
IF - How much time are you spending in the lab while you're not training with the Elite and ENL teams?
LP - I am in the lab every day, I'll train Elite in the mornings and then go straight there. Tuesday and Thursday evenings are ENL trainings so it means i tend to stay late into the evening on Mon, Wed and Fri. Then in the off season i really try to cram in the work to make up for the less hours i can get done during the season.
IF - Can you give us a brief description of what you actually do/where you're studying?
LP - So i study at Cardiff University and my PhD is funded by the charity Tenovus, I work across 2 campuses at the Heath Hospital and in the Cathays labs. What I try to do is use different models of breast cancer and try to find ways to kill them. Mostly i alter gene expression (gene therapy) and combine with a drug. Importantly i focus mainly on coming up with treatments that prevent the spread of breast cancer. I do this by doing experiments in the lab and getting patient samples.
We'd like to thank Luke for taking time out of what must be his hectic schedule to speak to us. One thing we spotted was that as yet Luke is without a Sponsor for this season which was a bit of a surprise really! If you fancy sponsoring our Hockey playing, cancer fighting scientist give the Devils office a call.
Also we'd like to say a big thanks to Tim Bowers for the Great action shots !
---
« Back to News