Jamie Elson - Offseason 2018
2nd May 2018 | Posted by Chris
---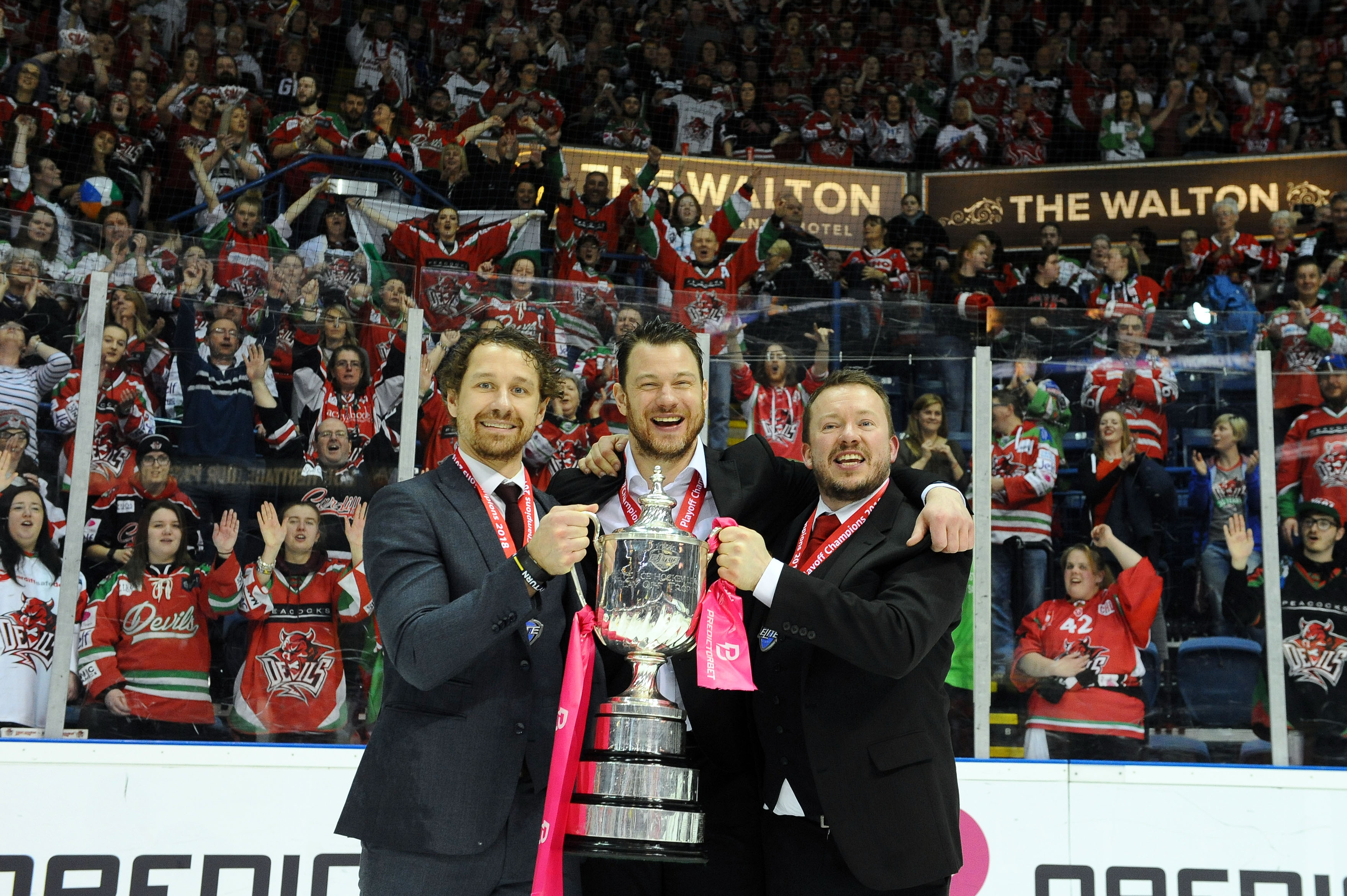 The last few years have seen the Devils re-emerge as one of the top British teams, winning league, conference, challenge cup and finally playoff final trophies. This has all been achieved with what has turned out to be the most successful Devils coach of all time, but joining him on the bench as assistant coach and holding a key role behind the scenes is Jamie Elson. Moving through the ranks of the Devils junior and senior teams, he's now a steady appearence on the bench, holding trophies and leading the team to more success. We finally managed to catch up with Jamie and here's what he had to say...

The-Inferno - It's been almost 5 years since we last spoke to you, at that time you were U18 coach and now you're assistant coach for a championship EIHL team! How did the move/progression come about?
Jamie Elson - It's been a steady progression over a number of years since we spoke last really. My last few years with the Juniors coaching the U18's were really successful, taking the Cardiff Junior U18s team and ending up winning the U18s League Championship and also The National Playoff final in Coventry, as well as winning a number of tournaments. And alongside that I had made some progression with coaching within the National programme, going from the England U14's to the England U16s, and then Assistant Coach with the GB U18's for 2 seasons. I was working with Devils in the office when the takeover by Todd and our new owners happened and that's obviously things started to change.

That first season, my role was in the office working with Todd and Kris, but I ended up supporting Lordo on game nights also from upstairs in the stands. And then that just slowly increased over time, to doing a bit more through the week to support Lordo where he needed. From there obviously the role evolved to be more team focussed and then Assistant Coach these past three seasons. Its been a great few years, and something I feel extremely grateful and privileged to have earned the opportunity to do.
The-Inferno - Last season we won 3 of the 4 trophies on offer, how did it feel watching the clock tick down on the League and Playoff titles?
Jamie Elson - Any time you win a Championship it feels amazing. But this year's titles just felt that little bit more special for me personally. I think to come back and win the League title back to back is a huge achievement, and when you look at how good the league was also, and the fact that all season we were the team with a target on our backs, made it just an unbelievable accomplishment. But then Playoffs then was really something extra special. I think anyone involved in hockey, knows that winning the Playoffs, and that final game of the season is just something else. And then you mix in the occasion, at Nottingham on Playoff weekend which is always a fantastic atmosphere, and also how our season ended there 12 months before, just made it all an extra emotional win.
The-Inferno - Can you give us an idea of what it was like to be standing on the bench, watching the clock tick down on the playoff victory in the sold out Nottingham Arena?
Jamie Elson - For me it was certainly the best feeling, of all the Championships to date. It really was an emotional one. It just felt right and felt that was the deserved ending for this group after what has been a really remarkable season with so many highs. Watching that last goal go in and counting down those last 17 seconds was for me the best moments involved with the Devils. Something I'll never forget. The Organisation has just so many loses at that final 4 stage over this 19 year run that to be there and finally win, and be part of the set-up that clinches that Trophy after such a long wait and run of near misses was an amazing experience.
The-Inferno - Does the success of last season increase the pressure or expectation for next season?
Jamie Elson - think any time you come off a successful season, the expectation is always going to be high for the year ahead. And off the back of the last 4 years, I think the expectations in Cardiff are now to be winning Championships every season. And although that does add pressure, that is a special thing to be able to say. What we have done in the last 4 years is put the club back at a point where everyone involved expects us to be competing for every Championship, every season. Yes, that's pressure, but it's the pressure that everyone wants. I think the expectation within the club is nothing less than this anyway. We set out a very clear and high standard. And it's exciting to be able to say that, and to be in that position where we have set such standards to be judged by.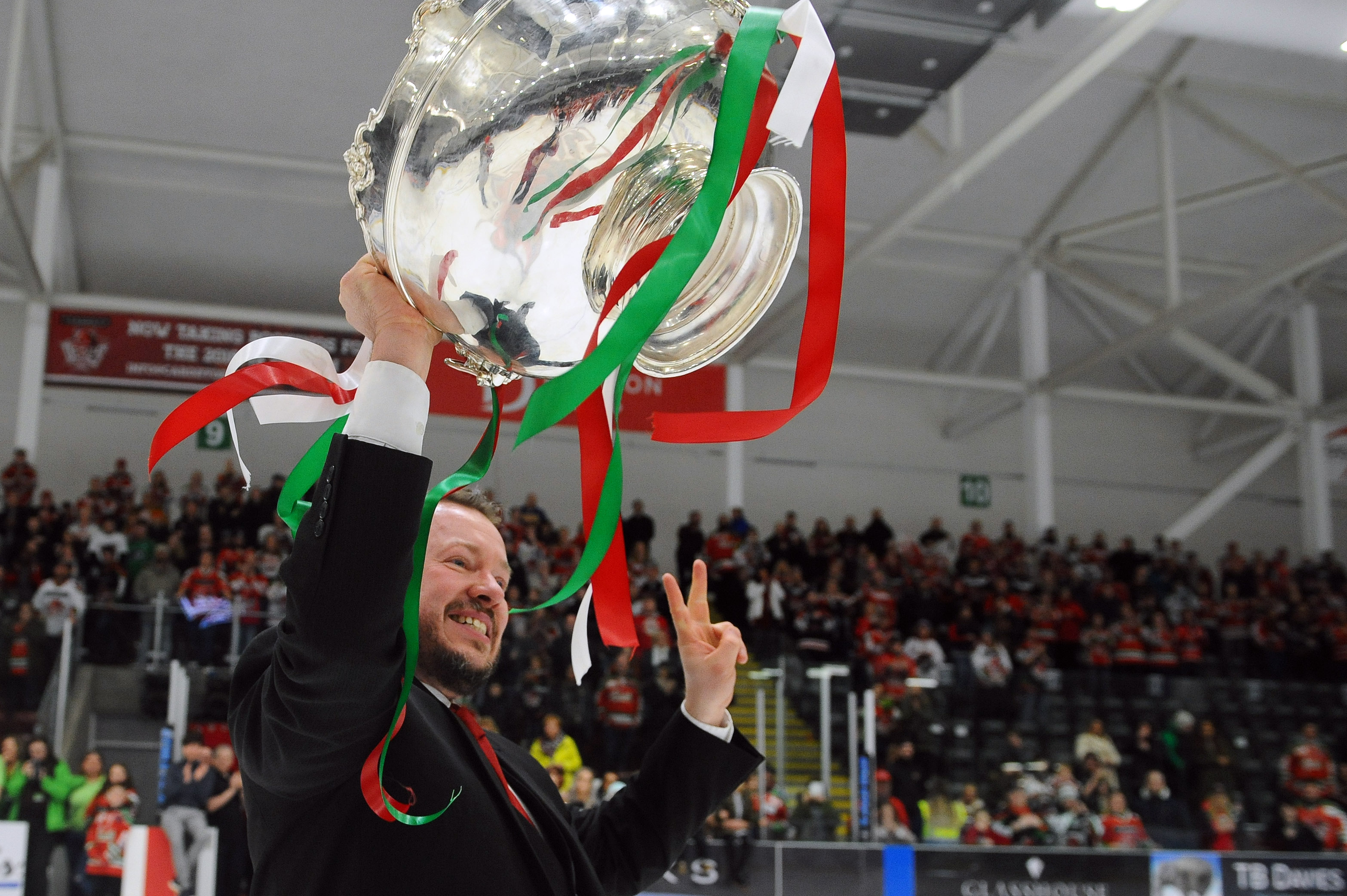 The-Inferno - How excited are you about coaching again in the CHL? The draw hasn't been made yet, but if it's anything like last season...
Jamie Elson - I'm massively excited. Going back to winning the league a year ago, it was unreal to end that 20 year drought. But for me personally I was really excited to see the CHL first hand and to be a part of it and to match up our club against the best in Europe. We knew it was going to be tough, but again we want to be challenged, and we want to have new and exciting challenges both for the team and the fan base. I think that first taste of CHL hockey and those two big wins at home just made us even hungrier for more. And watching Nottingham make the last 16 was a great achievement for them and British hockey. That would be something special if we could make it out of the group stages like they did this season. I also think it's a great learning experience for everyone on and off the ice, and a chance to see how the top teams in Europe do things. I think it's also a great benchmark for us too.
The-Inferno - As a previous junior coach, how does the collapse of the EPL hurt the prospects of young Brits hoping to step up?
Jamie Elson - Having been involved in Junior Coaching for almost 10 years I feel it's a real shame and doesn't help junior prospects progress. The gap between the old EPL and Elite League was already a fair jump for young kids coming through. Now that gap is even bigger. It makes it tough also, as young prospects playing in that league want to be challenged as much as possible to aid their development, and to do that you want the league to be as competitive and challenging as possible. There are still some strong set-ups in that league, with the old EPL teams. But the gap from top to bottom seems a lot different now. Hopefully in time we will see the set up change again to provide a league to replace the EPL with the bigger clubs involved.
The-Inferno - And what do you make of the U23 rule that the EIHL have brought in? Is it working as you expected when first introduced?

Jamie Elson - personally like the rule. I think it forces more clubs to step up and take notice of who the prospects are coming through at lower levels and to take on development of these. And not just looking at who the top 21 and 22 year olds are, but who is coming through at 16/17 years old who could make it to Elite league level. I think it's been exciting having guys like Craig Moore and Toms Rutkis around the team this season. They are hungry to learn and improve and are energetic. I hope that the rule stays and maybe even gets developed further over time. We need our top British prospect involved at Elite League level.
The-Inferno - We've had two new teams coming into the EIHL this season in MK Lightning and Guildford Flames who both seemed to do quite well. What did you make of their seasons after leaving the EPL?

Jamie Elson - I thought they were both excellent additions to the Elite League. Guildford in particular really impressed me. They recruited extremely well, and had a team with real identity. They played an exciting style of hockey and had a really successful first season. They gave us a great series of games this year and I think that they were some of the more exciting games of the year for sure. MK put together a strong line up also, with lots of Elite League experience on their roster mixed in with some good younger guys. I think they tailed off over the second half of the year after a strong start, but seemed to hit a lot of injuries and suspensions which took it's toll in the longer run. But they seem to have a great base and set up there to build from, and I'm sure we will see them improve and be pushing further up next season.
The-Inferno - Now that we have the IAW up and running, how does it compare to enemy venues? What are the best and worst venues to play at?
Jamie Elson - Personally, I love it. We have made it home and made it just as tough a place to come and play as the BBT days. The team on the ice and style of game has changed over the years with the move to the larger Ice, but I love playing at home, and coming out to a sold-out arena week after week. To see the increase in the size of the fanbase with the new rink is awesome and exciting. And I think we as a club put on a great match night experience all around. It's a great buzz here at home on game days.

I think that everyone would say that they love playing the big arena games and I'm no different. I love games in our Conference as the arena's are great, the atmosphere is normally louder and the games bigger for more important for us. I would say Belfast is probably my favourite place. Love the arena and set up there. Not such a fan of the trips to Scotland. Those rinks can get pretty cold!
The-Inferno - Thanks for taking the time to chat with us Jamie, is there anything we've missed or that you'd like to add?
Jamie Elson - Thanks all, and thanks again for everyone's support this year!
Photo thanks to @DaiLight91 - http://bridgendphotographer.co.uk/

---
« Back to News